Episode #38

Janks nails Jenna Jameson! WOOT!
Ahoy Landlubbers!
Aye, it's been a while since you heard from my salty orifice that I call a mouth. However today I felt the call of the Sea upon my ears, and I couldn't ignore it!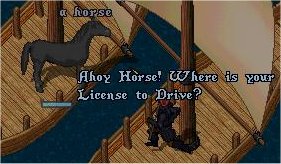 Right away I find a horse at the helm of this fine vessel!
That just isn't right, what if he has a acute form of Mad Dragon disease?

I find "Good Diggins" in the Sea Trance not far from Captain Horse.
He keeps casting recall but stays on his boat...seems quite peculiar to me. He doesn't respond
to any greetings or salutations, so I conclude he's in the Sea Trance...time to administer some painful antibiotics!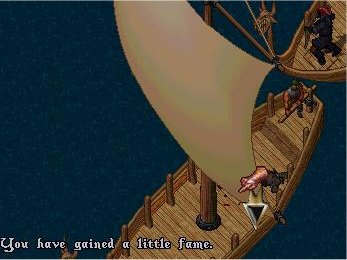 HAR! He be free from his cursed trance, and quickly goes silent! In the past, this only means one thing,
he's summoning a friend to come deal with me, the misunderstood Doctor Janks!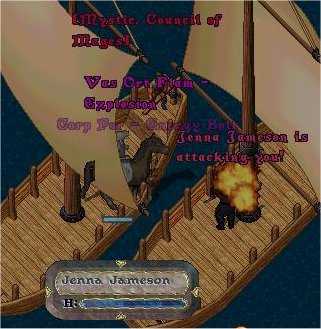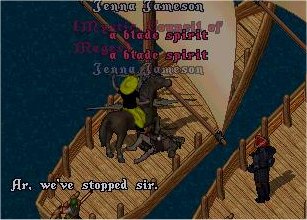 Renowned Adult Entertainer Jenna Jameson shows up!
I quickly try to think of a good pick up line, but she dishes me a nasty combo!
I sail off to heal and return with a little present for her as well...but she's good and dispels it!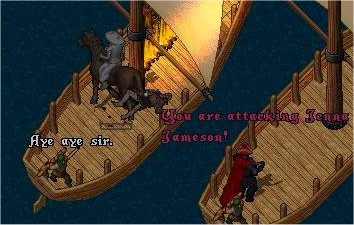 This has been one of my longest battles yet!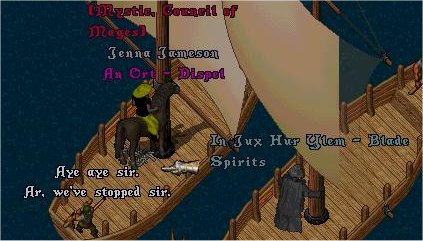 I do another quick escape only to cast another BS, and this time I use a certain
little device to cast while hidden! HAR! However she seems to have seen my
Chanting off screen and prepares for what's to come....DOH!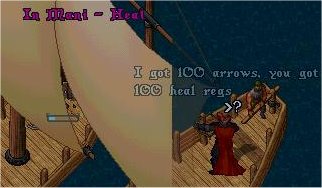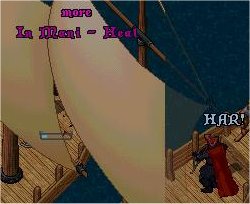 LOL! She's really feisty like in that movie I saw with her!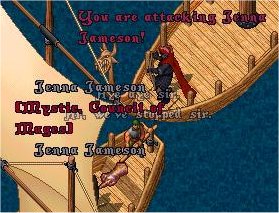 I ram her in the rear and grab her tillerman by the ears and continue to attack!

HAR!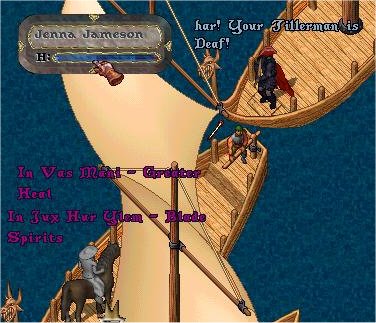 She finally gives up hollering at the Tillerman and again concentrates keeping alive!

The battle must have been a good 6-7 minutes by now, heck - Good Diggin's corpse already turned to bones long ago!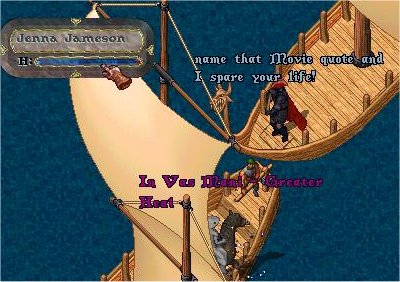 DOH! Leave it to me to pick a movie quote from a popular movie!


No Matter, "In Jux Hur Ylem" doesn't sound good.
Worse yet, I miss hitting her with THREE arrows! That means bad news for Janks!

I use a item of invisibility, but Jenna won't have me win so easily and
reveals and poisons me! ARRG!

Poisoning me had good and bad side effects. Bad - it revealed me for the Blade Spirits.
Good - it auto-defended and my arrow took Jenna down! HAR!

Things aren't looking good for Captain Janks!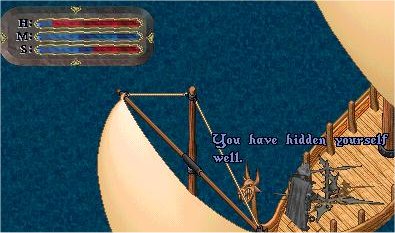 HURRAH! Pure luck! 25 Hide skill actually didn't fail me today!
Jenna almost won, ALMOST!


She doesn't seem very happy about this!
---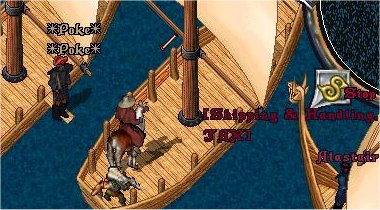 Alastair calls me and said he found someone that seemed to be in a Trance!
There wasn't any spell incantations, or any movement from the person in question,
so I administer the Poke Test, which he failed. Indeed this man is in a Sea Trance!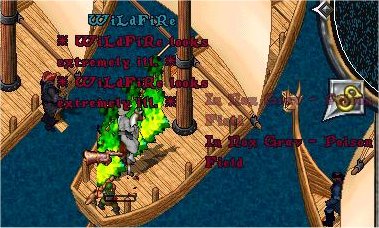 While I administer Antibiotics, Alastair administers a random field test. HAR!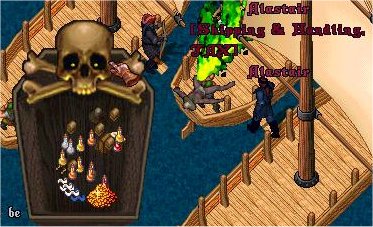 Loot Ahoy!