Episode #33

Janks and Alastair, at it again!
Ahoy Landlubbers! Alastair and myself had such a grand time Saturday night, we decide going on tonight is in order!


Alastair is hidden on the boat deck, and we set sail to the south while I do a bit of fishing to psas the time...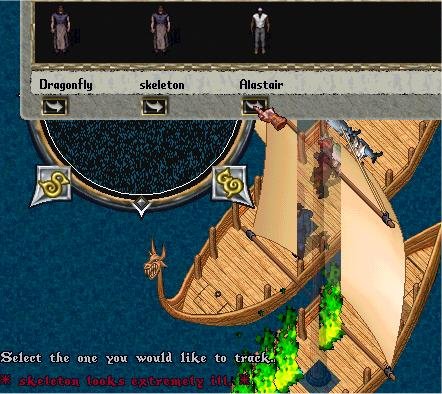 Doesn't take long till we run into not one, but TWO boats! While I steer, Alastair lays into skeleton's boat!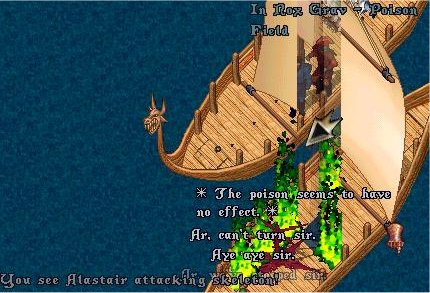 Skeleton quickly hides on his boat deck to elude the blade spirit, however
he hides in the middle of the Poison Field! HAR!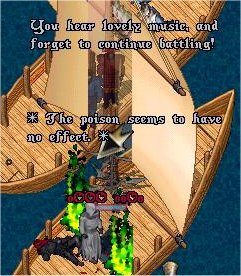 Alastair is an odd pirate, has Peacemakeing in his template. However, It comes in handy
trying to make a bladespirit retarget someone else! skeleton falls quickly, but comes to his senses
and sails off, losing us quickly. No matter, we have a second trespasser to go hunt down!

I find it humorous to find I am now down to 0 counts, 5 minutes after killing skeleton! HAR!

Aint long till we find Dragonfly! I holler directions to the Tillerman, while Alastair
attacks! We really need a smaller boat, It's no fun being the Captain sometimes.

I couldn't see anything! Twas horrible! But finally I notice I gained fame, and
we sped up just enough for me to see his corpse! The corpse actually almost fell onto our boat, he was sailing
too fast on the back of his boat!


I never layed a hit on Dragonfly, but it seems skeleton waited a while before giving out murder counts!
Which was pretty mean, for Alastair was at 4 counts right after Dragonfly, and thought he would be just out of stat loss.
Skeleton waited for a long time, and after giving his count, he put Alastair right at 5! OUCH! He had to retire for the night,
but I kept my post and continued sailing....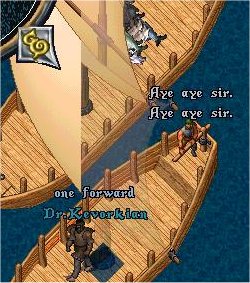 I found Dr. Kevorkian just a few minutes later, and he was in the deepest Sea Trance I have ever seen!
He goes one space at a time going south, and every so often he goes backward then to the sides. His Sea Trance is so complicated, I didn't think it was a Trance at first! Finally, I had to accept the facts, he was infected beyond any means, and I bet the good Doctor would appreciate me being with him and conducting an assisted suicide!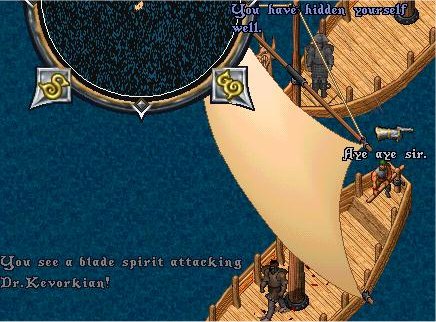 Since his complicated spirit gives out so many commands to the Tillerman, I decide
just to make this clean and quick, a blade spirit, sans anesthesia!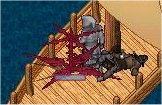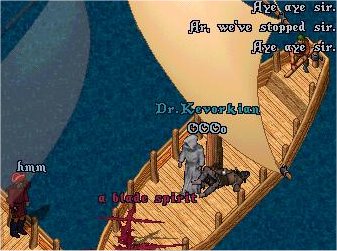 Sadly, Dr. Kevorkian doesn't snap out of his Sea Trance for quite some time, and it seems he's forever damned!

Oh poot, no boat keys! (I just now noticed I ran out of room typing and meant to finish, "for you"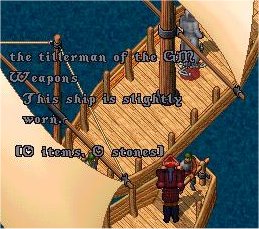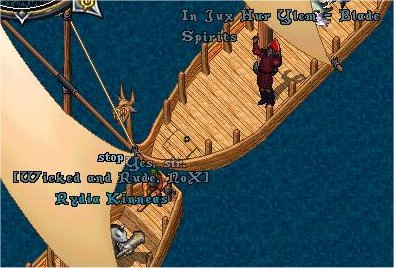 Not more than 5 minutes later, I ran straight into Rydia Kinneas, who also exhibits signs of the Sea Trance!
Time for more medication!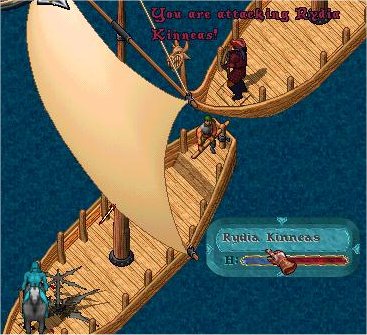 OH NO! Misdiagnosis! She has acute Sea Trance, not a full blown infection!
oh well, extermination is still the recommended dosage for acute Sea Trance!

Down she goes! Now for the infected j!


HAR! She had a boat key on her corpse, and it be just the ride size for the lock
on the plank!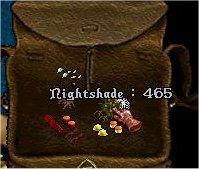 I noticed as she was in a trance, she was casting Poison over and over....seems she was trying to
kill that poor tillerman of hers in the name of gaining evaluation of intelligence! Whew, Pirates and Tillerman stick together, remember that!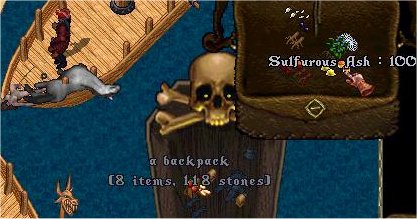 She has 100 of all the other regs, not too shabby! Now, to sail to land!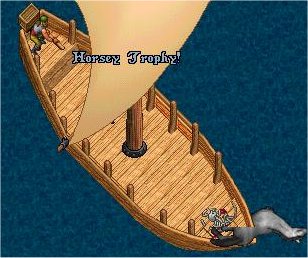 I wish Taxidermy kits could mount horses on our prow! HAR!

HAR! That's all for tonight!
Thirty minutes later I checked, Dr. Kevorkian still hasn't awaken from his trance to report me for murder!