Episode #25

Out of Stat Loss and back to Sea
Ahoy Mateys! It seems folks are learning about AAR, there be a lot less unattended macroers out today,
or perhaps it's because school just started? Oh well. I finally get used to being in the land of the living again, have zero Short Term counts, and head down my favorite server lines...


Tyler Durden wasn't in a Sea Trance, and recalled right after I started tracking him!
Maybe I should have used a Ghoul's Touch bow!
---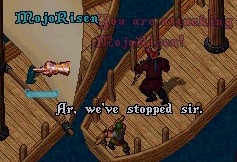 I notice a boat on the other side of the server line moving quite slowly,
so I turn around, sail far ahead of it, cross over, and block it. It's MojoRisen, who actually seems happy to see me; some
folks sometimes get all giddy out of being killed by such handsome pirates such as myself!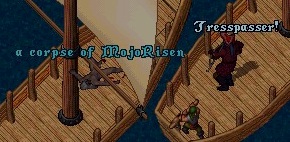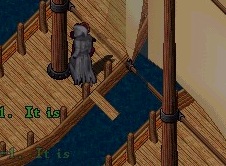 MojoRisen is so nice, he sticks around to allow me onto his boat, however
that darn salty air got into my eyes and I no longer see his corpse! ARG!

I am excited to see a ship key, but it turns out it's a decoy. MojoRisen seems to have nothing of value,
so I ress him and send him off on his way.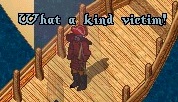 I bet he be a thief!
---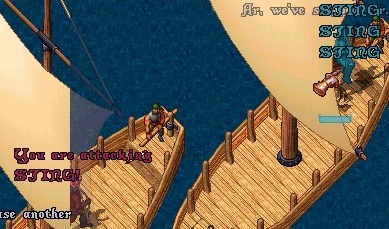 I see another boat moving next to me later on, with nobody on it. Then "STING" appears, seems he's raising
hiding today, however he hasn't fallen into the Sea Trance yet! Worse yet, he's an experienced Archer!
We lug arrows at each other for about 2 minutes, and both of us have good healing. However, STING
is using a GM bow, whereas I carry a Vanquish bow! STING has several close calls, but he finally falls!

And lo and behold, look where he's decomposing! On the side of his ship!

A Tribal Spear and a new GM bow for Serpent Killing, Har!
---

Allie here be in a deep deep trance. So deep, she is casting Earthquake while stuck on the edge of the world!
It was quite easy sailing up to her and assisting the release of her tortured soul from this Sea Trance!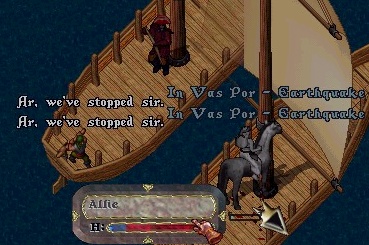 Allie rocked my boat a tad with her magic before I attacked her! It seems
I won't be getting a murder count from her misguided soul once it awakens!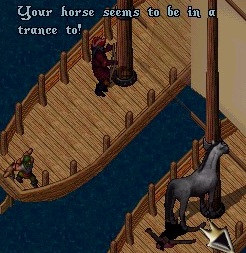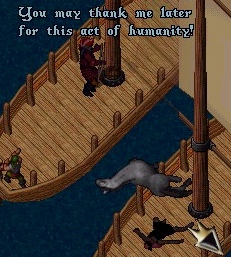 If Allie ever woke up from her trance, she won't be able to recall back to her boat
due to that horse standing there! The poor fella be in a Sea Trance as well, so I
take the liberty of freeing the spirit of the horse, and the recall spot for Allie!
I would hate for my actions to be misunderstood by Allie, so I leave her a book on the deck of her ship...

---