Episode #22

Never underestimate Tracking!
When it rainph, it pourph folkph! After I banked my loot from d'e lapht epiphode, I went down d'e pherver lineph again!

Here be where I left off...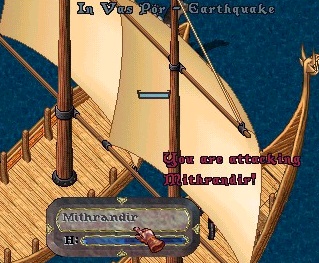 At d'e big pherver line junction, near Ice Eyle, "Mithrandir" be phtuck in a Trance!
I came to hiph aide! However before I could get to d'e udder phide of hiph boat to loot,
hiph phpirit woke up and took him to phafety, I lopht him going over d'e pherver lineph, and realized
I woulda never lopht him if I uphed my Tracking Phkill on hiph horphe! I alwayph uphed to kiwl d'e
horpheph, but d'e next time I may try trackin' it! Mithanddir be gray (he waph caphtin' Earfquake and he
hit poor ol' Jankph!) pho I don't get a count.
One of me favorite tactiph iph to phail down d'e pherver line, right on d'e edge, and hide.
I can phee boatph on d'e udder side of d'e pherver line, and quickly turn around, get about 3 Phcreenph
in front of d'em, croph to d'ere phide of d'e line, and get ready for d'em. Today, FIREMARPHALLMATT
be workin' d'e pherver lineph jupht like I hoped...and I got him pretty quick! However, he be in an unlootable Phpot.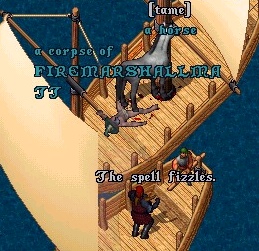 He finally broke out of hiph trance 5 minuteph later...

Faggy II Dope alpho phailph d'e pherver lineph right on d'e edge.
He was all too eaphy to chaphe down and pop off. I don't like Faggy, and
I don't like Dope, and I hate phequelph, pho it waph my pleaphure to get him.

However, Faggy II Dope wadn't in a trance for more d'an two minuteph.

Before I could do any damage to Phly, he recawled away. However, I had a hunch ol' Phly waph only
gone for a lidd'le while, and he would be returnin', or perhaph phomeon elphe d'at not be "In Tranin'"

Egadph! "Lord" Mephiphto!" haph come to kiwl Jankph!
Good d'ing Jankph have a crophbow of Ghoulph Touch, wif 10 chargeph!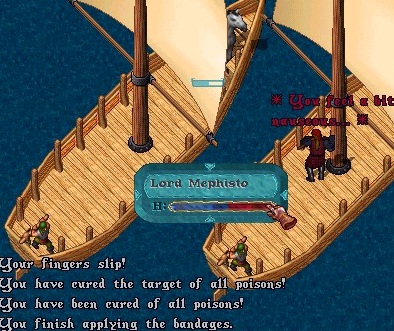 Lord Mephiphto came prepared for Ghoulph Touch, and popch poucheph
over and over, however wif 90 dexterity, he havin' probelmph caphtin' phpellph over
poiphon! He keep tryin' to heal while I keep trying to kiwl. Finally he took off to repophichion
himphelf, and I take that opportunity to get my Vanquiph Bow from d'e hold.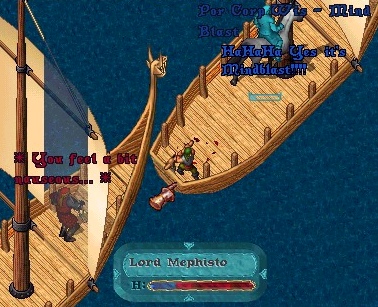 oh oh, Mindblapht!

Whew, my bow be too much for him.
And he died on d'e phide of d'e boat! However, he already told
d'e tiwlerman to take off, pho I quickly take a good look at hiph horphe,
take a big whif, and begin trackin' it!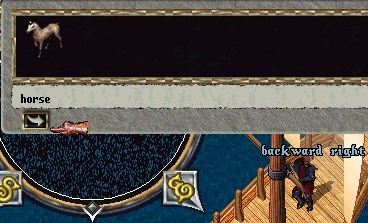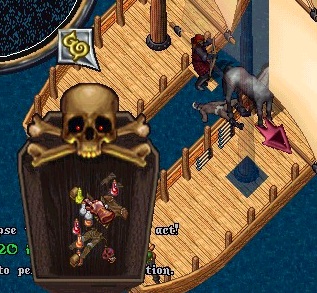 After about d'ree minuteph, I get far enough behind him d'at he d'ink he
lopht me, and he Help-Menu'd out. I came up right behind, and looted about 50 of each reg!


Ouch, I got in a lot of trouble today!