Episode 135 : " Crazy Joe the Thief comes out of Retirement ! (for a single day) "
---
In a continuing effort to build upon my rune library at Scoundrels' Cove, I think it would be nice to have a boat placed at the Cove Orc Fort that is unlocked, and a key would be locked down at the Rune Library - so anyone may have a 'safe zone' at the fort. Of course this entails me placing a boat in a very nice spot, plus one that can't be moved. I load up my thief with GM Hide, and carry a few items of invisibility in case I get cramped up by Savages and Orcs. Upon searching all over the fort, I found one that was on the shore that was IDOC! Now it's been ages since I camped an IDOC house, and I wasn't fond of the camping anymore. However, it was a nice spot, and upon placement I could block the boat in with another boat right behind it. I call in Zip and tell him what's going on, he gets his Pirate, Alex DeLarge, since he also has high hide and stealth, online to help me.
After about two hours of camping, "Rachel" recalls in on one of the boats right behind the IDOC boat! Alex is getting bored as hell camping with me, so he takes off to kill her.

After he loots her, he ICQ's me and tell me to get ready to place my boat where Rachel's was,
since it would be easier and safer to simply move my boat in the place of the IDOC when it falls, instead
of place the boat and still have the boat key on me...since it's a better idea, I do just that.

Rachel returns and brings a friend, BeastMaster, and a dragon!
They are highly displeased at the current events, and decided to take vengeance on me!
Luckily, I already stored the boat key safely in my house, however as a thief I wasn't able to give them murder counts.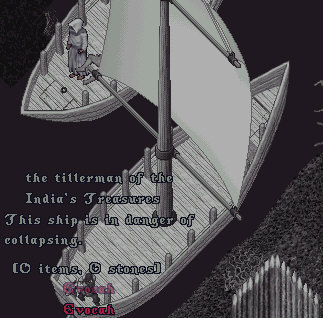 There's the IDOC boat. however if you notice I can't see the plank of the ship I'm on, I'm stuck!
I used Crazy Joe's Help Menu Options already for the day just to get out of T2A, then to Cove, so he was
stuck on the boat for the rest of the day! I log him off, then log in Crazy Joe the Mule to recall onto the boat.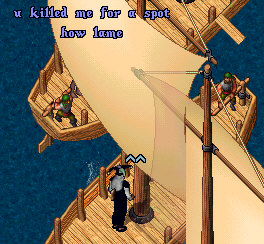 My mule arrives to an irate Rachel, who is mistaken and believes I am the one that killed her.
I try to explain I wasn't Alex DeLarge, however she wasn't in the mood to listen...
Would Rachel and BeastMaster honestly attack me again?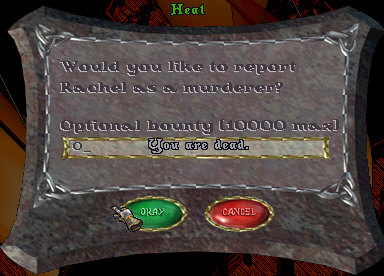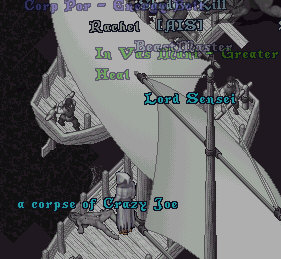 Rachel would, yes! However, now my mule is stuck on this boat.
I log him out, and log in Crazy Joe the Noob-Thief, who just so happens to not be in the Thieves guild yet due to only 50 stealing. Lord Sensei arrives, who is Zip. He valiantly defends himself from both mages, but eventually falls.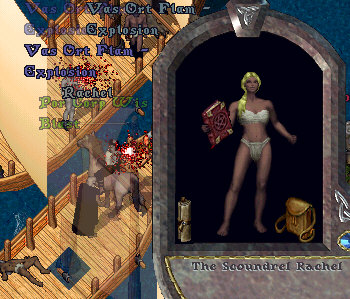 Crazy Joe the Noob Thief arrives, and Lord Sensei is still alive!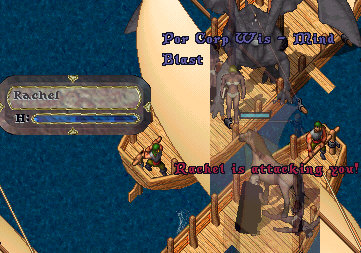 I'm stumped that BeastMaster and Rachel attack me yet again, if this keeps up all 10 of my players
will be stuck on this boat, and they will be pretty deep in Murder Counts!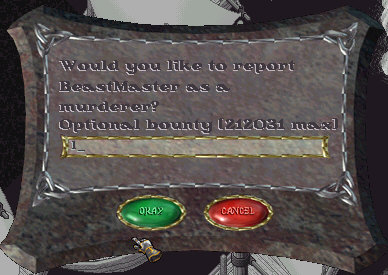 Of course this Noob thief has nothing but 80 hide and under that 50 stealing, he goes down
quickly, but it seems Rachel's vengeance has finally caught up with her...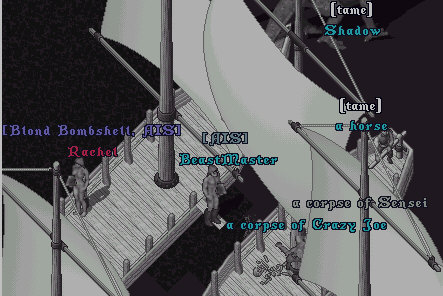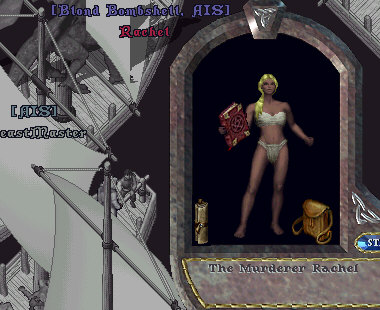 I was curious, Rachel went to a Murderer and BeastMaster to Malicious...
I log into UO.COM and do a character search to see they were both in a guild called AIS, and I was able to see where they started their day at before committing a few acts of murder....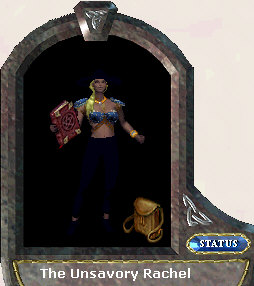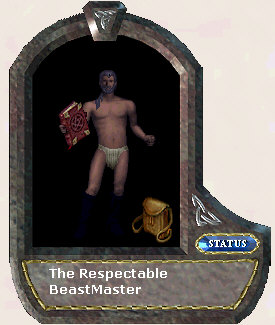 Respectable to Malicious! Ouch! Oh well, he was a Tamer and can get his title back
in no time at all... Rachel on the other hand will have to macro quite some time to get any title besides murderer!
In the end, the boat fell late in the day, and Zip successfully placed a boat while he was offshore, and made it public.
Success!