Episode 165 : Misc Crap again!
---
While I wasn't making episodes for the past month, I did make some pictures and save them....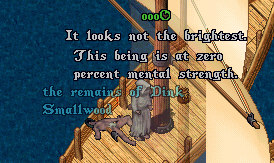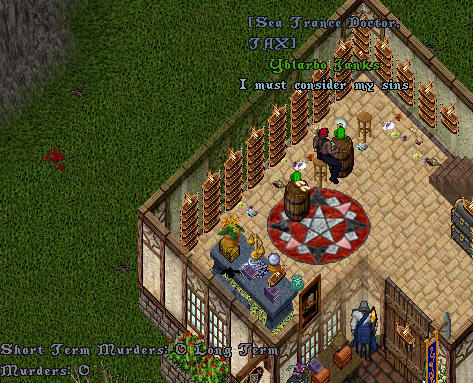 Dink Smallwood was Yblarbo Jank's last kill before he received Large Murder Count Reprive. Since Janks went blue,
I lost all desire to play him, I did have a lot of counts. :(

Dunno if I ever showed this before, but Jhelom Bank is one of two banks Janks could work with from his boat.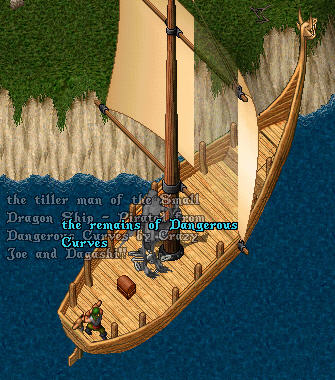 With help from Dagashi on Siege, we took a boat from Dangerous Curves!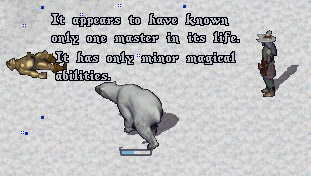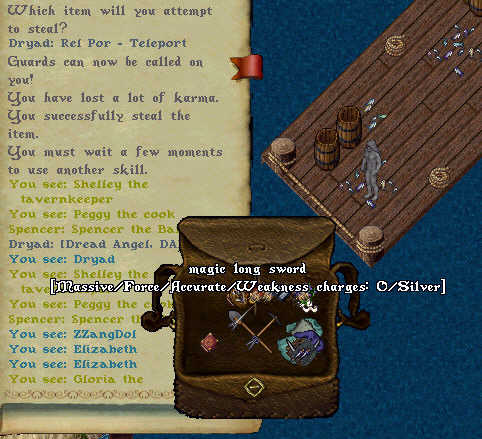 When "Baekdu" was a shard (Asian Siege Shard) I made a Tamer-thief there. My first bank theft was quite impressive seeing how I had 60 stealin and no horse.
Also, why do polar bears have magery?

Lonegamer spotted an old victim of mine at the Chaos Shrine! HA!

While I was taking a Siesta in the past few months, Cove FINALLY got a bank! All that paging to GM's for a bank
and the threads on their board finally paid off.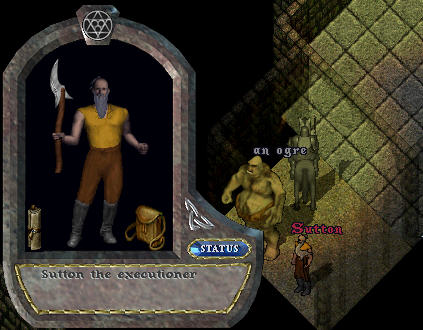 With the new Dungeon changes, it was humerous for a while to lure this executioner to the Deceit Entrance!

Yes, I do like the thief guildmaster.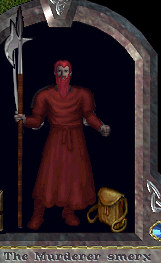 EXPRIOTER! No clue what this was about, but had to drag it out.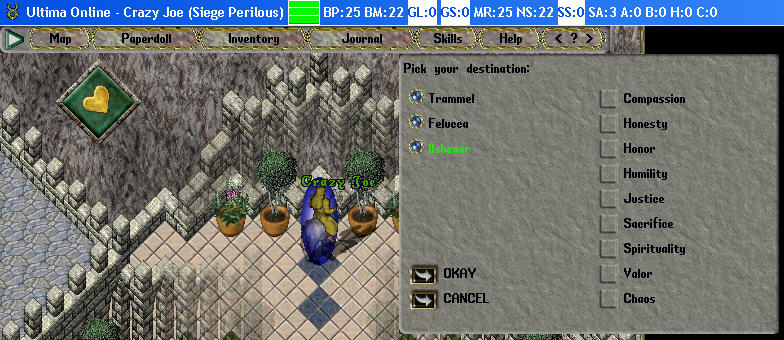 Oh! The day Siege got Publish 16 was a funny one. First, they gave us Trammel Rules and all reds ressed in Stat Loss! The shard was reverted, thankfully.
The next day they put Trammel Rules in Ilshenar, and all the vendors BOUGHT stuff from players, and sold them for normal prices when anything in "Felucca" was 3 times normal, and boats/houses were 10x normal! I ran over to the gargoyle city and made 5 "Blue Apples" out of Tribal Berries, then bought 15 small ships for 10k, easily resellable on Siege at 80k. What a great day to be online!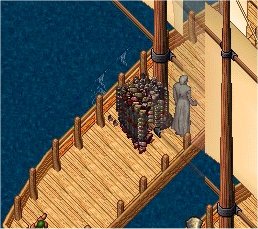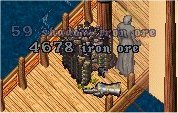 This Power-Miner that sells ingots on his website thought his boat was 100% Secure. Well, it wasn't apparently. Pics sent courtesy from someone that wanted to be known only as "Janks' Wife" My best guess is he got on his boat, combined his iron ore into one patch and help-menu'd out. (which is no longer possible). Beyond me why he didn't just sail off with it and bank it all in Jhelom.

It's always fun helping the Shadowclan orcs !

YUMMY!

They fixed this, but at one time you could snoop into someone's back pack, while they were dead!

LOL, this guy is a lockpicker.

I told Freja I would never post this on BattleVortex, but I guess my page is OK.
This is on Siege Perilous - and I don't know what the gal did, but a big wad of gold appeared at her feet.
F'ru got the pile. But then a SECOND wad of gold appeared, and I got that one.
That's all folks.