Tonight I decide to go fishing.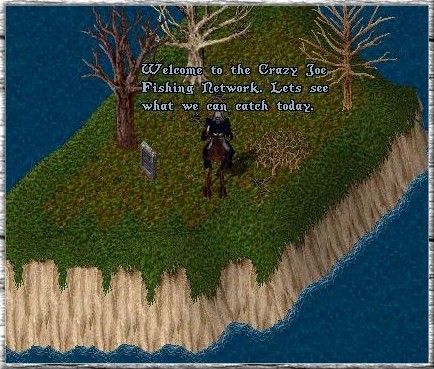 I decide to fish on a small island where less fisherman have probably
spent their time. After all, nobody likes competition among professions.
Unlike traditional Fisherman, I have marked runes to various parts of the
world. I open Gate Portals to those varius places, and quickly cast
Dispel Fields to ensure them safe passage to my island, but no
means of passage off the island!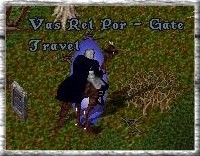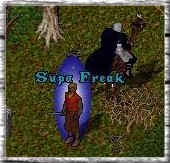 I catch one in my first cast!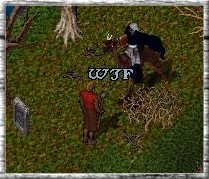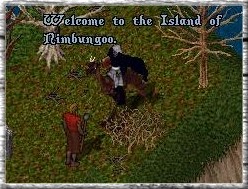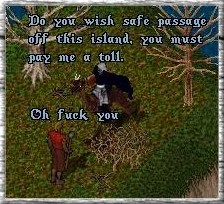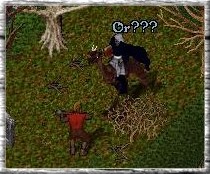 Seems to be a Dirt Mouth Bass.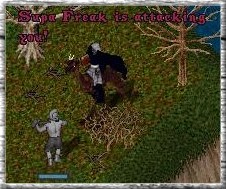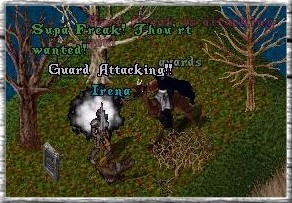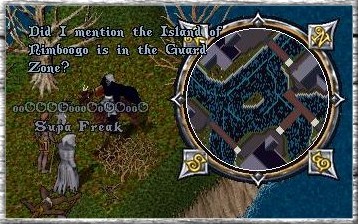 Tis True! The Island of Nimbogoo is located
within the City of Vesper.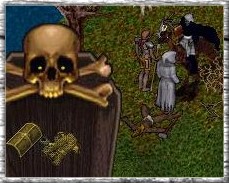 Oh my! This fish had quite a load on him!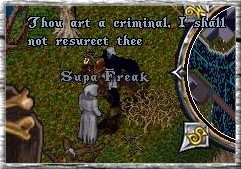 I cast another gate to the bank of
Skara Brae, and foolishly cast
Dispel instead of Dispel Field!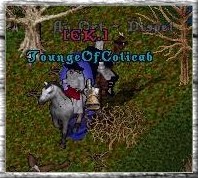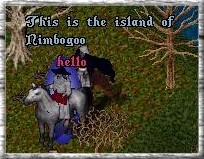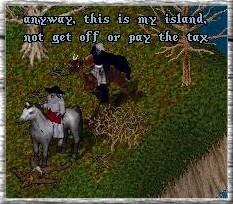 I should have let that body on the ground decay, and allow the guards
to leave, for ToungeofColicab figures out soon where he is.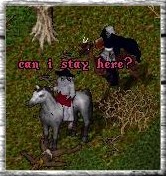 Well...if you don't pay the island tax, you
don't get to leave. So I guess he can stay!
I cast about 5 more times and didn't get any bites.
I decide I need to use more attractive 'bait' to lure more fish.
I open a gate to the Britian Moongate, which as you can see is busier than
most banks anywhere on Feluca! I mean, look at that!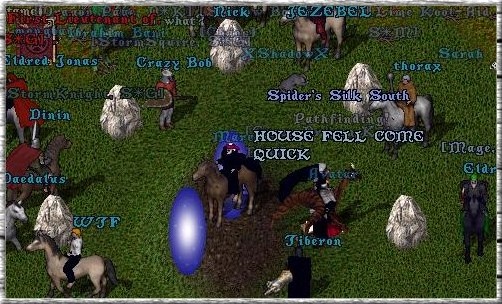 My gate is the lower one, and I run through claiming a house fell, then
run back and dispel my gate.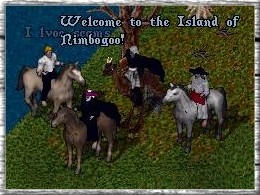 The one in black promptly recalls out, however the one
in white believes this is a scam, and decides to stay to harass us.
I knowing from past experiences that the person goes by the name
WTF, and is a thief! I provoke the thief in thinking he is indeed
stuck on an island and has no worries of robbing me, I even
challenge him to try and steal the war hammer I looted from Supa Freak
and prove he is a good thief!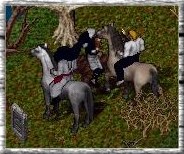 Naughty Thief! Now I shall summon the
Guards of Nimbogoo!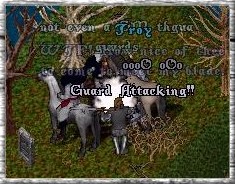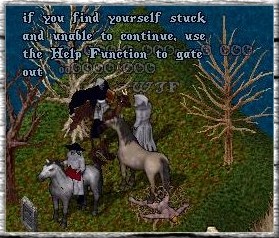 I ran out of regs, and had to get more. When I
return my fishing partner is gone, no matter -
I open another gate to the Britian moongates and
dispel it.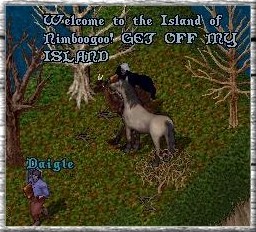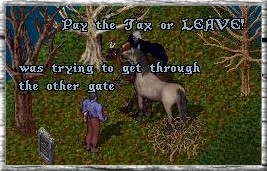 I just realized that since my Island is in the
guard zone, nobody gets a 'warning' message when
they simply touch my gate, no wonder I'm getting
such lovely catches tonight!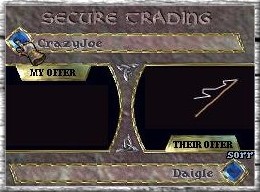 Seeing how I am fishing, Daigle pays the tax
with a fishing pole!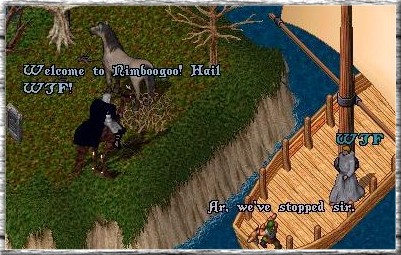 What a good night fishing!
I got this idea from Belan the Looter of Napa,
she had a short episode of her fishing on land outside
of guard zone, and caught a few fish herself.
Thanks Belan for such a fine idea!