"WE GUILD GALAD, LA" by Crazy Joe
---
To clarify something, Galad's website is http://galad.drtwister.com. There is Good Galad and Evil Galad - two totally different people in real life. Last week Good Galad left UO to rejoin the real world (I don't have the will power to do so yet) and Evil Galad still plays. As you all know, each player gets 5 character slots. E.G. has a few characters, one of them being a thief. He asked me one night if he could join our thief guild. Let me clarify this to everyone who doesn't get it and emails me --- Good Galad Left UO, he did NOT come back to join us. Evil Galad's Thief wanted to Join us. Stop emailing/ICQing me!
Second Note : My Paint Shop Pro expired, and I couldn't take pictures. I quickly load up Ultima Online ScreenShot Utility, and now I have problems remembering to hit PrintScreen instead of F12. I'll adlib any good pictures that didn't get taken. (I missed a few very classic momens, dammit)
After we guilded some folks into N|S, we recall to my new house to prepare for the 'special' initiation, Evil Galad's Thief. I ICQ him; he gives us a 15 minute estimate till he's done and will meet us there. Scarlet Thief, the 'Head Honcho' of S|S comes to visit us for the occasion, and she hides in the corner so we don't draw too much suspicion. I expected Rowan to hide as well, but she is a woman that won't listen to any man.

Somebody with a NPC name recalls on
my doorsteps and walks in.

Yup, it's him. Or some AZN who is going to get banned really soon.
adlib : He asked how I knew it was him....

I remember seeing him mark the rune.

(side note, we were try to loot a house together a few
days later, and I walked up to the house and said 'Damn
this house will never fall!' Galad unhides right in front of me!
I asked him if he was curious how I knew he was right there, and he was.
I didn't know, just made a rhetorical statement to the entire crowd, and I just
got lucky that he was standing there right next to me. Gave him a little Paranoia!
Adlib : Dammit, Need to remember NOT to hit F12.
Galad touched the stone, and he was in. He asked
right away if we do Initiations.
ChaoticJelly Private Messages us "Oh damm, ATTACK!"
I respond to Galad, "This isn't LuT Galad, but since
you brought up that question........."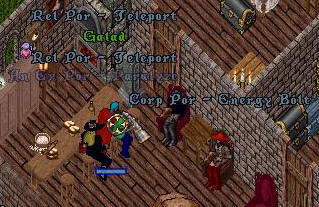 It was his idea. Honest.

He tried his Tele-Hide trick. Note to Galad: Teleport won't
work inside houses. What also is missing here is ChaoticJelly cast
paralyze first thing on Galad, but he reflected it. Now ChaoticJelly
is stuck in his chair! Sorry CJ, gonna have to sit this initiation out!

Rowan and I finish him off...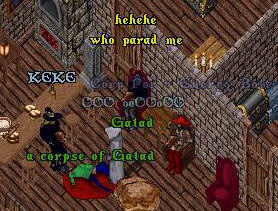 ChaoticJelly is still glued down, I think
he just now noticed.....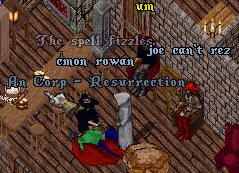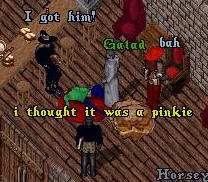 85 Magery, I fail resurrection often.... Not this time.
Rowan likes to brag she is a GM Mage and I'm not... sit your ass down girl!


My typing sucks at times, so sue me.
ChaoticJelly just realized why he was paralyzed.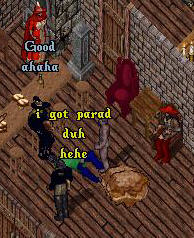 Scarlet Thief comes out of the oven while
ChaoticJelly reviews what the plan WAS.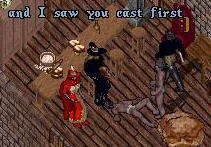 I knew what HIS plan was, but I had another one.
You just can't trust CrazyJoe at all times, can you?
That's why they call me Crazy....