Episode 7 by Chaotic Jelly, "Gate? I thought you said Date!"
---
Last night was too much fun. I near about pissed myself I was laughing so hard. CrazyJoe was working his stealing and I was working on my INT/DEX. We planned on just working up some skills when all of a sudden, someone started SPAMMING for a gate. Well, I had party system with CrazyJoe and told him to come running.
Well, I happened to meet Jackel, who posts on Stratics. (He is the one who only wants 60 stealing!) And CrazyJoe came up with MIner, A UO terrorist.
Needless to say, we got the unwary through the gate. Next time, we need to learn to snoop them before wasting our time. Though, this was pretty funny!
Here we are in one of those "stuck" positions in Britain. On top of a guild house I believe.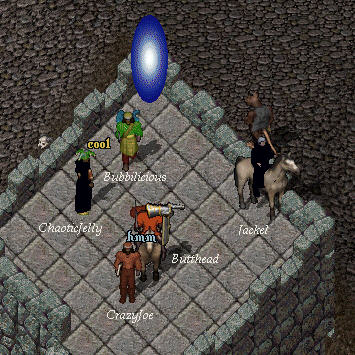 Now we snoop, next time its first. Don't you just love what newbies carry?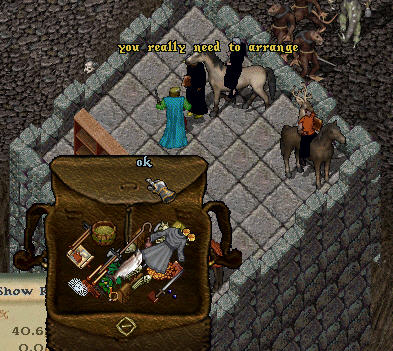 We say goodbye and do the "kal ort por - bow - hide" trick. Hehe, they were a little dumbfounded. Unfortunately, you can only see me. Everyone else was still there (you can just see MIner at the top of the pic) They should make the party system allow you to see your hidden party members.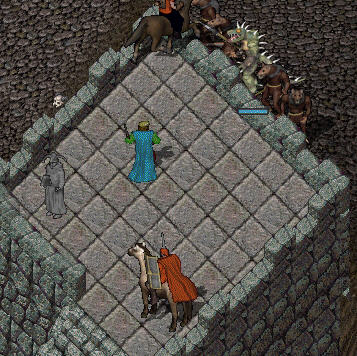 Bubbilicious, is the one dressed with the goofy colors (dont say anything about mine!) He is completely lost the whole time. I dont think he knows what is going on! Anyway, I ask him to get naked. He says something like are you a girl to CrazyJoe. Well, CrazyJoe runs with it and poly's into one! Hehe, I then have him service me. He is my bitch after all!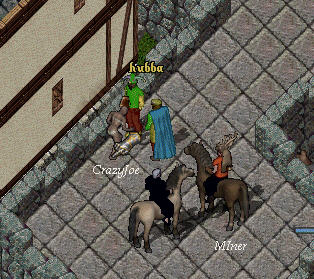 While up here, some adventures killed off some lizards. We screamed for help and they saw us. We told them we were stuck and needed help down. (We were trying to lure them up here for some real goods) Hehe, they really thought we were newbies and offered to come back and help after they did something.) Anyway, this is me telling them how it happened! (hehe, yeah, right!)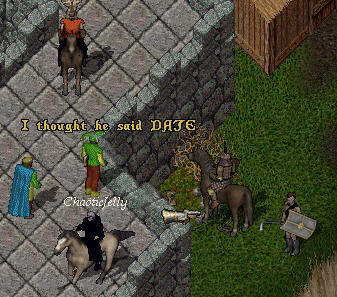 Okay. Now this is the house over near the East Bank of Britain. Another "stuck" location. Somehow, this other guy got through our portal (NEO). Bubbilicious not having a clue, walked through another one! (I believe Bubbilicious was probably stuck on this roof for about an hour and a half. CrazyJoe, being nice, finally coerced him back down!)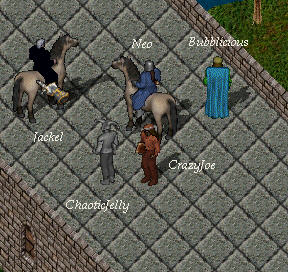 After another "kal ort por - bow - hide" trick, NEO started to freak! He knew he was stuck. I think he finally paid us 50 fishsteaks to get down. (All he had that was worth anything!) Yummy! Bubbilicious just kept saying help!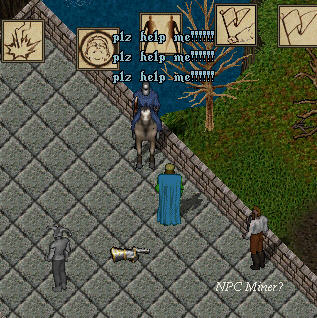 Had some great adventures asking females if I could touch their boobs, but forgot to take photos. I actually got attacked in town by a friend of one of the chicks! Of course he died instantly!